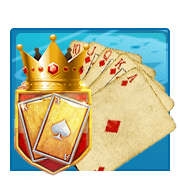 History of Poker: 20 Key Moments
While writing a history of poker would probably take at least two volumes (and considerably weigh down your bookshelf) we've condensed some of the biggest moments to affect the game.
Although not definitive, here we take a look at 20 of the biggest moments in the history of poker.
1 - 'As Nas' and 'Poque' Set the Template
While some historians suggest the Persian card game As Nas most closely resembles today's popular games, it was arguably the French game of 'Poque', which emerged in the 17th century that was adopted and adapted by the Americans as French colonists travelled to the New World. Poque featured a 52-card deck and five card-hands as in modern poker. [1]
2 - Wild Bill Gets In On the Act
The game grew in popularity as it moved up the Mississippi and across the US during the Civil War, taken to saloons and hotels by travelling soldiers. [1]
Immortalized in American folklore (and a rather excellent TV dramatization, Deadwood [2]) gunslinger "Wild" Bill Hickok became the embodiment of the Wild West's obsession with poker. Hickok died in his natural habitat, a poker game, holding what became known as the 'Dead Man's Hand' - Aces over Eights.
3 - First World Series of Poker
Although there were only 70 poker tables in the whole of Nevada (50 of them in Las Vegas), the first World Series of Poker brought the biggest players in America together for the first time. [3]
The 1970 WSOP was an extension of the 1969 Texas Gamblers' Reunion, a Reno get-together of poker aficionados and gamblers. The first champion, Johnny Moss, didn't even have to win a tournament to be crowned champ, however; instead, he was voted as 'best player' by his peers.
4 - First Satellites Introduced in Major Tournaments
The World Series of Poker continued to grow, while maintaining its showpiece event, the $10,000-buy in Main Event. Doyle Brunson won back-to-back titles in 1976 and 1977, but the apple-cart was upset in 1978 when an "outsider" in the form of Bobby Baldwin took down the WSOP Main Event. [3]
The Series took an evolutionary leap in 1983 when the first satellite was born. The satellite allowed players with smaller bankrolls to take a shot at winning the $10k entry fee and paved the way for tournaments for years to come.
Tom McEvoy, himself an experienced pro already, won his Main Event entry via a live satellite and duly took down the Main Event to become champion
5 - Phil Hellmuth Marks The Arrival Of The New School
After back-to-back WSOP wins for Johnny Chan, it was the turn of another young upstart, a 24-year-old from Madison called Phil Hellmuth, to make history.
Hellmuth Jr. took down the Main Event in 1989, beating a field of 178 to win the $755,000 first prize. [4]
6 - Stu Ungar Comes Back to Win Third WSOP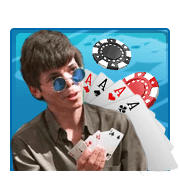 The New York Gin Rummy phenomenon took up poker in the late '70s and won Main Events in 1980 and 1981. "The Kid"'s win meant that the US networks started to sit up and take notice, with NBC covering the 1981 event. [3]
Despite various battles with drugs, as well as huge dents to his bankroll, Ungar returned in 1997 and took down the Main Event for the third time. Ungar was dead, broke, less than a year later.
7 - The Dawn of Online Poker
Although MIT students had toyed with play-money poker games played over (what would become) the Internet in the late 1990s, it was a Canadian former Navy man who set up the first commercial online poker room.
Randy Blumer's Planet Poker dealt its first game of poker, a $3/$6 Limit Hold'em game, on January 1st, 1998. Soon, games were running round the clock. [5]Planet Poker would cease operations when the Unlawful Internet Gambling Enforcement Act came into force in 2006. [6]
8 - Late Night Poker Launches Hole Card Revolution
While UK players were eager to take up the new online poker phenomenon, Texas Hold'em entered the public's consciousness in 2000 when Late Night Poker was broadcast on national TV.
A perfectly-placed slot for the post-pub Friday-night crowd, Late Night Poker featured pros, then little-known in the UK, such as Joe Beevers, Dave "Devilfish" Ulliott and Hellmuth himself, as well as British celebrities like Ricky Gervais, Victoria Coren and computer pioneer, Sir Clive Sinclair.
The success of the show came with a simple explanation of the rules of Texas Hold'em, friendly commentary from Jesse May, and the first use of 'under the table' cameras which allowed viewers at home to see players' hole cards and follow the action themselves.
9 - World Poker Tour Turns Poker Mainstream
While in the UK, Late Night Poker was turning on a whole new generation to poker, in the US it was the advent of the World Poker Tour in 2002. [7]
The tour effectively broadcast the final tables of big-money tournaments played in casinos across America. With the magnetic pairing of poker pro, Mike Sexton, and Vince Van Patten, as well as another breakthrough in 'hole cams' to allow home viewers to see players' cards, the show became a huge hit.
Further TV exposure was guaranteed with the advent of High Stakes Poker (FSN), Poker After Dark (NBC) and The NBC Heads-Up Challenge which established some of the new generation of pro.
Players like Gus Hansen [3] (who'd won the first ever WPT event in Las Vegas), Daniel Negreanu, Phil Ivey and Phil Hellmuth became solid TV stars for the next 10 years.
10 - "Moneymaker Effect" Infects 2003 World Series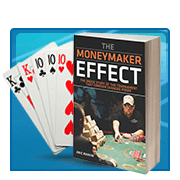 Although the first live WSOP satellites had been held in 1983, it would take 20 years for the first online satellite winner to make history.
A new poker site called PokerStars.com came along and held online qualifiers which allowed players from around the world to compete in bigger live events.
The aptly-named Chris Moneymaker spent around in satellite buy-ins qualifying for the 2003 WSOP Main Event. The Tennessee accountant would go on to win a first prize of .5 million as he beat old-school legend Sam Farha heads-up in a classic victory of new-school over old. [8]
11 - Daniel Negreanu Wins Back-to-Back WPTs
While another amateur and PokerStars qualifier, Greg Raymer, was busy taking down the 2004 WSOP Main Event (with 2,576 runners, up from the previous year's 839 [9]) for million, one of the 'second generation' of pros, Daniel Negreanu, was busy scoring back-to-back WPT events.
Although he'd been busy securing cashes across America for years, the Canadian "Kid Poker" took down the 2004 Borgata Poker Open and then the Five Diamond World Poker Classic in quick succession to add almost million to his career winnings and place him firmly in poker's elite. [10]
12 - UIGEA Puts Paid to US Online Poker
Although online poker sites had been offering real-money games to American players for some years, things took a turn for the worse in 2006 when the UIGEA (Unlawful Internet Gambling Enforcement Act) was introduced.
A tacked-on piece of legislation to the SAFE Ports Act, UIGEA essentially outlawed real-money payment processing between financial institutions and online gambling sites. [11]
As a result, major sites pulled out of the market in America including PartyGaming and 888, therefore losing their market lead. Sites who disagreed with the new legislation, such as Full Tilt and PokerStars, continued to supply poker online to US players, albeit while based offshore.
The fallout saw two founders of online e-wallet, NETELLER, arrested and charged with money-laundering, while another big e-wallet used for processing online payments to poker sites, PayPal, pulled out of the US market altogether. [4]
Meanwhile, online qualifiers continued to flock to the World Series and its new home of the Rio Hotel & Casino. The Main Event registered its biggest-ever turnout for a Main Event (8,772 runners) with an incredible million prize for the winner; to this day a record. [12]
Former Hollywood agent Jamie Gold went on to win the first prize and make more poker history.
13 - "POTRIPPER" Gets Ripped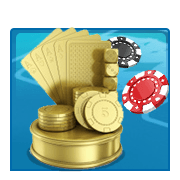 Pre-UIGEA, America was a sea of largely unregulated poker sites. And while many were well-run and fair to players, some were out to cheat their customers out of every penny.
Valued at million just two years earlier, Absolute Poker witnessed its infamous 'POTRIPPER' scandal of 2007, when CEO Scott Tom was discovered to be playing the site under 'God Mode' and spying on other players' hole cards.
Absolute was fined ,000 but the site continued. After Black Friday (see below), the site stopped taking American business, and players are still waiting for their funds back.
14 - "Isuldur1" Changes the Online Landscape
While the government in the US were busy clamping down on online poker, in Europe the landscape was rather different.
"Nosebleed" cash games sprung up at the major sites still operating post-UIGEA like Full Tilt. In particular, Finnish pro Patrik Antonius and a mysterious Scandinavian youngster known only as "Isildur1" were busy racking up some eye-watering pots.
In November 2009, the pair broke the world record for a single cash game pot at .3 million.
In fact, during a single session on Full Tilt Poker, "Isildur1" was involved in five of the six biggest pots ever played on the Internet.
15 - Black Friday Shuts Everything Down
While the major poker sites still operating in the US - PokerStars, Full Tilt and Absolute/UB - thought they could continue accepting American payments without interference, things were to come to a head in April, 2011.
The Black Friday raids by the FBI and the indictments issued by the US Department of Justice led to closures of the three sites, catching everyone by surprise. [13]
The extent to which Full Tilt were not able to repay its US players became apparent as a million shortfall was uncovered. [14]
Tilt were later bailed out as PokerStars took over the company and refunded US players themselves. Many US players were forced to apply direct to the government for their cash.
16 - First Million Buy-In Hits WSOP
While the WSOP Main Event retained its constant of a ,000 buy-in, and the introduction of a ,000 Players' Championship gave the big names a mixed game to decide who was the best of the best, the Big One For One Drop would decide who became the richest of all time.
Devised by Cirque du Soleil founder and keen high-stakes poker player, Guy Laliberte, the Big One For One Drop carried a buy-in of million and sought to raise money for good causes in Africa.
48 pros and rich businessmen sat down for the inaugural tournament, with seasoned US pro, Antonio Esfandiari, taking down the first prize of ,346,673 to send him to the top of the all-time money-earners' list. [15]
17 - Nevada Passes Bill Legalizing Online Poker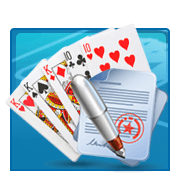 Despite UIGEA and the Black Friday raids, in late 2011 the DoJ relaxed its interpretation of the outdated Wire Act and decided that the laws of individual states would rule over whether bets on the Internet could be taken.
That paved the way for states to go it alone in offering their residents legal, regulated online poker within state lines. Nevada became the first state to offer legalized poker online in 2013 as the new Ultimate Poker site dealt is first hand of poker [16].
Delaware would soon follow, and New Jersey would complete the trio of US states to offer the first regulated gaming online in America as they allowed sites to set up shop in 2013. It also marked the return of PartyPoker to US shores for the first time since the mid-2000s.
18 - PokerStars Deals 100 Billionth Hand Online
Although frozen out of any newly-regulated states in the US, PokerStars continues its dominance over online poker and in June 2013 deals its 100 billionth hand online. The milestone is recorded on a tiny .02/.05 cash game table, with the history-making player bagging a bonus prize worth ,800 [17]
19 - Amaya Pull off Audacious PokerStars Buyout
The world's biggest online poker site became the target for the world's biggest ever buy-out in June 2014 after Canadian firm Amaya, who'd already completed the acquisition of gaming software firm, Cryptologic, completed a staggering .9 billion takeover of PokerStars's parent group, Rational. [18]
PokerStars went to pull out of a host of unregulated, 'gray' markets around the world in a bid to boost their chances of entering the US market.
Meanwhile, amid poor numbers and turnover, a blow was struck for regulated poker in the US after the first legal site to appear - Ultimate Gaming - withdraw from the Nevada gaming market.
20 - Senator Jason Chaffetz Tries To Reverse Wire Act
With the three newly-regulated states continuing to go it alone, speculation increased about which states would legalize next.
However, amid all the optimism, several attempts were made to derail legalized online gambling in America. A bill put forward by Senator Jason Chaffetz of Utah, and backed by Las Vegas gambling mogul Sheldon Adelson, in February 2023 , would outlaw all forms of online gambling (even poker) across the whole of the USA.[20]
The Future of Online Poker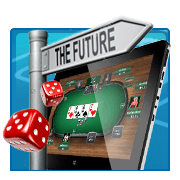 If passed, Chaffetz's Bill would undo the DoJ's new 2011 ruling on the interpretation of the Wire Act. However, while a federal bill banning or blanket legalizing online poker in America both seem unlikely, 2023 could well see further states "go legal".
With a long history of live cardrooms, California could be the catalyst that makes legal online poker viable in the US. The state is currently considering several new bills which would allow real-money poker, although their success are probably based on whether those big sites who took "illegal" bets during the UIGEA era will be allowed to operate online rooms.
For the rest of the world, an increase in mobile poker seems likely, as does the emergence of further regulated markets where players can play against their own countrymen.
Resources:
More Related Guides
Top