Online Poker Security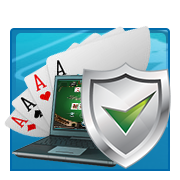 How many times have you heard an online poker player moan that a site is "rigged", that a disproportionate number of aces are being dealt, or that someone, somewhere can see their hole cards?
Because online poker is often so anonymous, played at sites governed and based on servers often thousands of miles away, it's natural that players can get suspicious.
So, how safe is your site really?
Scandals and Security
Recent scandals in online poker haven't helped with the industry's perception. Big scandals like the POTRIPPER case in 2007 (see boxout) have shown that without proper security, sites are open to transgressions.
And what if the operators themselves aren't defrauding players? How can you guard against collusion from other players at your table sharing information against you?
Seven Ways Internet Poker Sites Protect You
1 Licensing and Regulation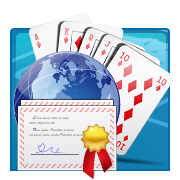 All poker sites should have gaming licenses from reputable jurisdictions which ensure fair software and regular auditing.
Check the homepage of the poker room to check for which Gambling Commission oversees the site and look for reputable jurisdictions which issue licenses like Gibraltar and Malta.
2 Dealing With Collusion
Every reputable poker site has a dedicated procedure for handling complaints and allegations of wrongdoing or collusion).
Just contact the site with your complaint as the good rooms will have dedicated departments to investigate cases of possible collusion or cheating.
Sites are also good at spotting multi-accounting, the process where disreputable players log on to a site using multiple servers and accounts. This is a form of cheating that, while not common, has led to some high-profile cases in recent years. In almost all cases, multi-accounting is caught and dealt with.
And to protect you against players who shouldn't be on the site (banned players or under-age), ID verification is usually practised by solid rooms. When you make a real-money deposit, you will be required on some sites to scan in photo ID like a passport or driver's license and send it to your site. Once approved, you will be free to play for real-money on the site. While a pain, age and ID verification is essential for a secure poker experience.
3 Protecting Your Money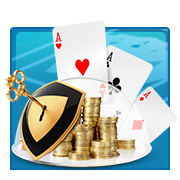 Good sites should have segregated funds, meaning that all player account cash is kept separate from prizepools. This means that in the case of any problems, the site is able to pay back players' money that belongs to them.
Although hidden away, you'll find the site's policy of segregation (if applicable) in the terms and conditions.
4 Encryption Technology
The best poker sites have sophisticated encryption technology in place so that your personal details, username and passwords are kept secure.
128-bit SSL encryption is standard on most sites, but some go a little further and offer 1,024-bit RSA or 448-bit encryption through Blowfish.
If that sounds bewildering, don't worry; it just means that your poker room is using the kinds of safety measures on financial transactions usually undertaken by major banks.
5 Random Number Generators (RNGs)
Safety doesn't just stop at protecting usernames and bank transactions; the shuffle of the deck needs to be trustworthy too.
That's why, just as a casino site uses a Random Number Generator (RNG) to oversee totally random roulette spins, so poker rooms use RNGs to make sure that the deck is shuffled properly before every hand.
In the early days of online poker, it's true that the shuffle of the deck was not totally random; at least, not random enough to guarantee an entirely fair game. These days, however, RNGs are sophisticated and, more importantly, regularly tested.
6 Independent and Regular Auditing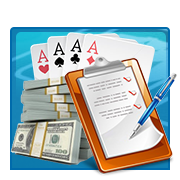 Part of the conditions of a gaming license being issued is that poker rooms must have their RNGs and security protocols regularly checked and audited.
There are several independent auditors, respected across the industry, who undertake the audits at poker rooms, and you can find their logos clearly on poker sites' homepages.
Look for major auditing firms like eCOGRA, TST or GLI; if they're checking RNGs they will be conducting annual audits to make sure everything is in order.
eCOGRA (eCommerce and Online Gaming Regulation Assurance) is an approved testing agency that services Internet poker rooms' software to make sure the games are completely fair. They also undertake 'penetration testing' to give the software a thorough work-over.
7 RSA Security Tokens
An RSA Security Token is a piece of physical hardware kit issued by some major poker rooms which can be used in addition to your password when logging in.
The Security Token features a 6-digit number on the screen. When you login at a poker site, you will be required to enter your RSA Security Passcode comprised of a four-digit PIN (sent by email) plus the six-digit Security Token number.
Security Tokens are a great way to improve security as you have to physically have the Token on your person, while a PIN number or password can be hacked and stolen remotely.
Who Are eCOGRA?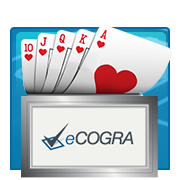 eCOGRA stands for e-Commerce and Online Gaming Regulation and Assurance. A leading testing agency based in the UK, eCOGRA specializes in certifying online gaming systems.
As well as ensuring the RNGs are working in proper order (via a complex and thorough series of tests) they also work to protect customers' private information, and ensure poker rooms give players fast and accurate player payouts.
Elsewhere, GLI (Gaming Laboratories International) and its testing wing, TST, carries out regular independent checks on all bets placed at online poker tables to make sure the games are being dealt properly
Most good poker rooms will display their auditors' certificates in PDF form somewhere on their site.
More Related Guides
Top