Arizona Poker Legislation 2017
Arizona is somewhere in the political middle when it comes to U.S. states and their stance in relation to real money gambling. Arizona is not as conservative in its legislation as a state like Alabama, but it's someway short of being as liberal as New Jersey and Nevada, where pretty much anything goes.
As per Arizona state law [1], pari-mutuel betting for real money is legal. You can bet at horse and dog racing meets, and there is also a fully legal state lottery with real cash prizes to be won. The only casinos you'll find in AZ are those run by Native American tribes on Native American land, however, and real cash poker games on commercial premises are illegal.
Charitable events are allowed to incorporate gambling in Arizona, and both raffles and "social" gambling are permitted by the state.
On this page you'll discover:
AZ's legal stance on Internet poker
The best AZ online poker sites
Types of gambling available
How to make your first deposit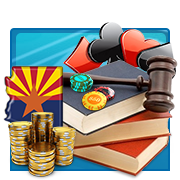 Online Gambling Law in Arizona
Arizona has yet to actively pursue the legalization of online real cash gambling, as has successfully been achieved by New Jersey, Nevada and Delaware.
While online gambling doesn't fit into accepted "regulated gambling" as defined by AZ state law, there is not a specific clause we can find in relation to real money online gambling or how it should be policed.
Arizona law defines gambling as an [2], "act of risking or giving something of value for the opportunity to obtain a benefit from a game or contest of chance or skill or a future contingent event."
That definition would seem to include online gambling at real money casinos, but there has been no suggestion thus far that Arizona will prosecute residents who participate in online gambling. While we always recommend getting advice from a qualified legal professional, there appears little risk for Arizona players.
Can Players from Arizona Play Online Poker?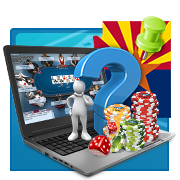 If we're asking whether Arizona residents have access to real cash online poker, the answer is emphatically yes. There are a large number of online poker sites that accept players from the Grand Canyon state, and you will have no trouble finding an online casino that takes your real cash deposit and pays out real money winnings on poker.
Is playing online poker in Arizona legal? Strictly speaking, no, but the authorities appear to have little or no interest in cracking down on those who choose to access real money online gambling from the state. They would likely be far more concerned with the provider of a site, than a player who is enjoying its poker tables.
Recent Developments
While there is currently a bill proposed in Arizona to legalize real money winnings from fantasy sports, there is nothing ongoing with regard to either commercial casinos or legal online gambling.
Back in 2011, former Arizona senator Jon Kyl appeared to be in support of at least considering making online poker legal when he said [4], "Efforts to carve out an exception for games like poker, which many believe is a game of skill, may be considered later this year."
The Facts
The History of Gambling in Arizona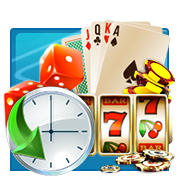 For the last century, Arizona has been relatively cautious in its approach to gambling laws. Having become the 48th state in 1912, AZ took a tough stance against casinos in the state but did remain open to other types of real money gambling.
The Indian Gaming Act was passed in 1988 [3], allowing Native American tribes and states to, "jointly regulate Class III Tribal gaming. Class III gaming includes slot machines, blackjack, keno and other casino style games."
Much controversy and legal wrangling followed in Arizona, before gaming compacts were signed during the 1990s that gave the tribes "exclusive rights to operate slot machines and casino style gaming." These compacts are now required for tribes to set up casino operations.
Regulated Gambling Options in Arizona
Residents of Arizona can visit one of the many tribal casinos on Native American land and enjoy Class III gaming for real money. Here are some of the other options available for those residing in AZ:
Betting at dog and race tracks
Playing the state lottery
Charitable betting
"Social" games of poker
The Future of Regulated Online Gambling in Arizona
While there's no sign of an imminent bill to legalize online casinos in Arizona, the success of regulated online gambling in Nevada, New Jersey and Delaware may ultimately force Arizona's hand.
Tax dollars are at stake, and AZ may consider legalizing real money online casinos as a smart long-term move – especially considering so many in the state are already active on online gambling platforms.
The Bottom Line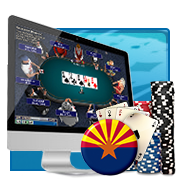 While Arizona law, if followed to the letter, appears to outlaw online gambling for real cash, there is no anecdotal evidence to suggest the state will prosecute those who play online.
A large number of sites are offering real money online casino play to AZ residents, and a large number or Arizona residents are actively engaged in gambling online. We should expect both of those trends to continue.
References
[1] Statelaws.com: Arizona gambling
[2] Arizona state legislation
[3] Arizona department of gaming
[4] Reid, Kyl join forces on Internet gambling
More Related Guides