Iowa Poker Sites & Laws In 2017
Situated in what is romantically referred to as America's heartland, Iowa is among the nation's most liberal states when it comes to real money gambling laws.
If we're talking land-based real cash gambling, pretty much all options are available to folks in Iowa. There's a state lottery, pari-mutuel betting is legal and there is also legislature in place that works for charitable betting.
Iowa currently has three greyhound tracks and one horseracing track. You can place bets at both, and it is now legal for these tracks to carry slots machines and even offer up table games – thus transforming their racetrack into a "racino".
Tribal and commercial casinos are licensed in the hawkeye state, and there are currently a total of 23 real money venues if you roll in the four racinos [1]. These combine for over 20,000 slot machines, 412 game tables and 79 live poker tables.
On this page you'll get to grips with the following:
Can Iowa residents play online poker?
IA's legal view on Internet poker
The best ways to bet in IA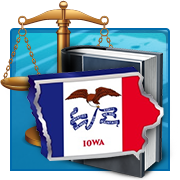 Online Gambling Law in Iowa
Back in 2012 Iowa appeared on track to legalize online poker [2]. A bill was passed in the senate that would have permitted the state's racetracks and casinos to serve online real cash poker to residents. That bill didn't make it in the house, however, and IA is still to follow the leads of Nevada, New Jersey and Delaware, in legalizing online gambling.
For now, online gambling in Iowa would be classed as illegal, as it falls outside of the approved real cash gambling categories outlined in state legislation. The fact we can find no specific reference to online gambling in Iowa law, however, does leave some people wondering what the true stance is.
It's also worth noting there is no record (we can find) of an Iowan being charged or prosecuted for engaging in real money online gambling. We would always defer to a legal expert in this area, and would advise you to do the same if you need further clarification.
Can Players from Iowa Play Online Poker?
Real cash online poker is readily available to Iowa residents and visitors to the state. There are a good number of sites that will accept players from Iowa and you should have little problem finding a deposit and withdrawal banking method that works.
We would always advise you consult qualified review sites before selecting a real money online poker website, to ensure your safety online and to determine the site that best suits your poker needs.
Recent Developments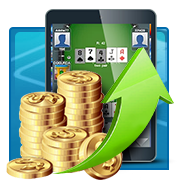 A bill to legalize real cash betting on fantasy sports passed the Iowa senate in March 2017 , and could bring daily fantasy sports play to Iowa if it gets the green light from the house.
Online gambling remains a hot topic of conversation. There is no bill currently in circulation and some experts are saying Iowa's most likely next move will be to measure the success of legal real money online gambling in Nevada, New Jersey and Delaware, before moving forward.
The Facts
Iowa has plenty to offer fans of land-based real money gambling. You can play table games in casinos and visit racetracks. It all started with riverboat gaming, but now the land-based market is open and Iowa seems likely to consider further expansion plans.
The History of Gambling in Iowa
Iowa has a storied gambling history, dating back to early settlers, and was among the states that first launch riverboat gambling in America.
In 1983, Iowa passed its Pari-Mutuel Wagering Act, which opened up real cash betting on horseracing and dog racing [3]. Betting on simulcasts was legalized in 1989, and excursion boat gambling was approved to usher in a new era of riverboat action in Iowa.
In the years since, land-based real cash casinos have been given the green light.
Regulated Gambling Options in Iowa
As outlined above, the following would count as regulated gambling options in Iowa:
Pari-mutuel betting
Racetrack betting
Casinos
State lottery
Charitable betting
The Future of Regulated Online Gambling in Iowa
Iowa appears a prime candidate to form part of a next wave of states to legalize online gambling. The state has proved itself very open to gambling expansion ideas, and has already approved a real money online poker bill at state level, only to see it denied at the house.
The temptation of additional tax revenue from real money online gambling looms large, but Iowa is currently in a holding pattern, as it watches on for the results achieved by Nevada, New Jersey and Delaware.
Will Iowa make a move in the next couple of years? It's impossible to say, but it's certainly a lot more likely to pass an online gambling bill than a large number of America's more conservative states.
The Bottom Line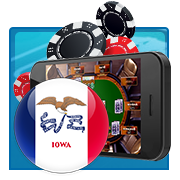 Iowa's recent push to allow online fantasy sports for real money suggests the state is extremely open to debating new ideas, and also to embrace the Internet as a facilitator in the gaming industry.
Should the bill pass it might prompt a fresh run at an online poker bill in the near future, or perhaps even an all-encompassing online gambling bill?
Even if it doesn't, we should expect Iowa to be very much part of the legal online gambling conversation over the next couple of years, as we gauge the success of NJ, NV and DE, and look for the next states to join the real money online gambling revolution.
References
[1]World Casino Directory: Iowa
[2]Lobbyist Explains Status of Online Poker in Iowa
[3]Chronology of Iowa's Gaming Laws
More Related Guides