Maryland Online Poker Guide 2017
Maryland is a fine place to be these days if you're inclined towards real money gambling. There's a good selection of land-based gambling options in the Old Line State, and the laws are relatively liberal in comparison to much of the United States.
There are currently six licensed real cash casinos in Maryland, the latest being the MGM National Harbor in the county of Prince George's. Real cash casinos came to Maryland in 2010, with Hollywood Casino Perryville being the first to open its doors.
You can also play slot machines at racetracks in Maryland, following the passing of a bill in 2008 that allowed horseracing venues to apply to become racinos. There are no Tribal casinos in Maryland, however, with all venues on offer falling under the commercial banner.
According to the World Casino Directory [1], there are a combined total of 12,943 slot machines and 407 table games on offer to Maryland's real cash gamblers – quite the offering from a state that was once considered among the more conservative towards gambling law.
Pari-mutuel betting on horse racing is legal, as is charitable betting in the Free State. Maryland also has a real money state lottery.
Gain knowledge on all this below:
Maryland's official gambling laws
How legal is online poker in MD?
The best Internet poker deposit methods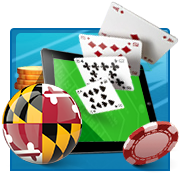 Online Gambling Law in Maryland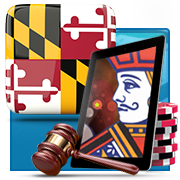 There is no specific reference to online or Internet real money gambling we can find in Maryland legislation. That being said, online gambling is not included in the permitted list of gambling activity in the state, so we must therefore assume it is classed as illegal.
However, with no record we can find of an individual being charged or prosecuted for accessing real money online gambling, the true stance of Maryland to online gambling is a little unclear. We would always strongly advise you consult with a legal professional before making any decision in this area.
Can Players from Maryland Play Online Poker?
Yes they can. Folks in Maryland should have no trouble finding real cash online poker sites that will accept their registration. Using a search engine will throw up plenty of options, and it shouldn't be too hard to find an online poker site that takes your desired payment method.
The most important thing with online poker sites is researching carefully before you pick one. We recommend consulting a respected review site to do the work for you.
Recent Developments
A bill was passed in 2012 that allowed for, "traditional table games," at Maryland casinos [2]. About the same time the state also decided to allow casinos to stay open around the clock, ushering in the era of 24-hour real money gambling in MD.
Nothing major has happened since those 2012 developments, but the debate over Maryland gambling expansion rages on. Some are all for it, while others aren't convinced the tax revenues generated for the state are worth the deemed negative impact of the pro-gambling measures introduced.
The Facts
Maryland has opened its sixth commercial casino and there may be more to follow, as the state moves further and further away from what was once a conservative stance towards real money gambling.
There has been no sign that MD will move to follow Delaware, New Jersey and Nevada, in legalizing online real cash gambling in the near future, however.
The History of Gambling in Maryland
Maryland's gambling story started to get interesting in 1943, when the state first legalized slot machines [3]. By the 1950s slots had grown to huge popularity, with towns booming thanks to their draw and entertainment facilities popping up all over the place to capitalize.
Much controversy and drama flowed between then and 1968, when slots were outlawed, only to return as legal entertainment again in 2008.
Since then Maryland has approved six commercial casinos and allowed for racetracks to carry slot machines too. This is a state that's returning to its real money gambling past. Some in MD are only too pleased about it, while others can't believe what's happening.
Regulated Gambling Options in Maryland
The following are Maryland's regulated gambling options:
Pari-mutuel betting on horse races
Commercial casinos
Slot machines at racetracks
Charitable betting
State lottery
The Future of Regulated Online Gambling in Maryland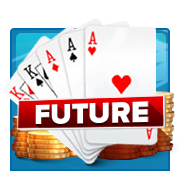 Maryland is not considered one of the more likely states to form a second wave behind Nevada, New Jersey and Delaware – the three states to have made online gambling legal thus far. Legalizing real cash online gambling may happen in the future, but for now MD appears to be dealing with land-based issues first.
With casino expansion will come added pressure to pursue legalized online gambling, however, and the success of NV, NJ and DE will also have a bearing on how quickly the debate moves on in Maryland. Should those states raise millions in tax revenue, the temptation to legalize online gambling may prove too strong to resist.
The Bottom Line
Maryland is one of the more amenable U.S. states when it comes to real cash gambling. There are some great casinos to visit and betting at racetracks is also a viable option. What happens over the next few years will be worth keeping a close eye on, as MD considers further gambling expansion.
Could there be a move to legalize online gambling? It's certainly not out of the question, especially when you consider the advances made in recent years in the state.
References
[1]World Casino Directory: Maryland
[2Maryland Gambling Expansion Becomes Official
[3Maryland's Sordid Slots History About to be Repeated
More Related Guides