Mississippi Poker Legislation 2017
Mississippi is amongst the most storied U.S. states when it comes to real money gambling history. Thoughts turn immediately to early riverboat casinos, steaming down the Mississippi river packed with gamblers and card sharks looking for their real cash fix. If you've watched the movie Maverick, you'll know just what we mean.
The riverboat casinos business is now thriving again in the Magnolia State, though vessels are docked and some have even moved a few hundred feet inland, so you might argue they can hardly be called riverboat casinos anymore.
This means Mississippi has commercial, real cash land-based casinos. The state also boasts a selection of tribal casinos built on Native American land, taking its overall offering to 33 casino venues. These combine to offer in excess of 36,000 slots machines to punters, and close to 100 live poker tables.
MS does not have pari-mutuel betting on horse racing, nor is there a real money state lottery. It is legal to put on charitable bingo games for real cash, providing you have a license to do so.
Get informed about the basics, like:
Mississippi's online and offline gambling laws
Simple ways to play Internet poker in MS
Making the most of real money online poker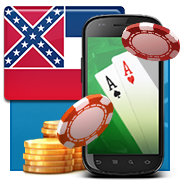 Online Gambling Law in Mississippi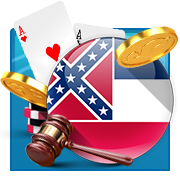 Mississippi lawmakers make a clear point of stating that online real cash gambling is illegal in the state. As per the MS Gaming Commission, "Internet gambling is illegal under state law."
As per the Commission, "Online sites may advertise they are "legal" and "licensed" forms of gaming. They may be legal or licensed where the bets are received, but it is illegal to place bets from Mississippi with these businesses."
Despite the law being so clear, we have yet to find an example of an individual in Mississippi being charged or prosecuted for the act of accessing a real money online casino. That doesn't mean you should go ahead and play without fear of repercussion of course, and we would always advice you speak to a qualified legal professional on matters pertaining to gambling law.
Can Players from Mississippi Play Online Poker?
Yes they can. Mississippi residents and visitors to the state should find plenty of real money online poker sites that will accept their registration. Be sure to check carefully that the site accepts a deposit and withdrawal method that works for you, and don't just jump in with the first real cash poker site you come upon.
There's so much choice when it comes to real money poker these days that you need to make a considered choice. We'd recommend consulting credible reviews sites and scanning poker message boards. That way you'll get a good sense for the best, most reliable and most secure online poker websites to play at.
Recent Developments
The big fear for real cash gambling in Mississippi right now is the looming possibility that neighboring state Alabama could join the casino party. If Alabama passed commercial casinos, it could have huge implications for the earning potential of those in MS.
Another big theme in Mississippi gambling right now is the reintroduction of a bill that seeks to legalize online gaming. The Mississippi Lawful Gaming Act of 2017 is not being given much chance of success by those close to the debate, but it does show there are influencers in the state who want to make real money online gambling a reality.
The Facts
Mississippi has much to offer in the way of land-based casino play, with a big number of establishments and some of them open 24 hours a day. There's no racetrack to bet at, and no state lottery to play, however. In terms of legal online gambling, the conversation is ongoing but it's unclear whether there's enough support to make it a reality.
The History of Gambling in Mississippi
Mississippi's legendary riverboat casinos ruled the waters in the 1800s and the state also used to run lotteries and have horse racing events you could bet on.
A history of modern real money gambling in MS would start with the 1990 ruling to legalize dockside real cash casinos. From there, real money gambling in Mississippi has exploded, though horse racing and a state lottery are now very much off the menu.
Regulated Gambling Options in Mississippi
The following are regulated gambling options for the people of Mississippi:
Commercial casinos
Native American casinos on Tribal land
Charitable betting on bingo
The Future of Regulated Online Gambling in Mississippi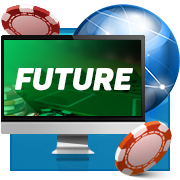 Three U.S. states have already made the move to legalize online real money gambling. Those states are Nevada, New Jersey and Delaware, and more are expected to follow suit in the coming months and years.
Mississippi seems unlikely to make the leap anytime soon, but the conversation is being had at the highest level and you'd have to imagine MS might eventually find the temptation of huge tax revenue too good to ignore. This will especially be true if NJ, NV and DE enjoy big returns on their experiment to make online gambling legal.
Will Mississippi legalize online real cash gambling in the next year? The smart answer is no, but don't be surprised if bills continue to be pushed and an increasing number of influential folks have their heads turned towards the idea.
The Bottom Line
References
[1]World Casino Directory: Mississippi
[2]Bluff.com: Mississippi Becomes Third State To Introduce iGaming Act in 2017
[3]Gambling Online: Mississippi Gambling History
More Related Guides