New Hampshire Poker 2017
New Hampshire is one of America's smallest states by both land mass and population, but it still manages to offer some good real money gambling options for residents and visitors.
Pari-mutuel betting on horse races is legal, and the Granite State has two racetracks you can visit to get a piece of the real cash action. Those venues are Rochester Fair and the famous Rockingham Park, which has been putting on horse races for over a century now. Simulcast betting, where you can place wagers on live races shown on TV screens, is also legal with a license in New Hampshire.
It's not just horses either. You can place real money bets on simulcast greyhound races at New Hampshire's Seabrook Park, though the live dog races there have been outlawed – as has greyhound racing across much of America.
Charitable betting, to include the likes of bingo and raffles, is legal in the state. You'll also find live poker included in the charitable gaming category, with a percentage of funds (35
at the Seabrook Poker Room) funneled into worthwhile causes by the Government. The same principle is applied to New Hampshire's real cash state lottery.
There are no commercial or Native America real money casinos in NH, though attempts have been made recently to try and change that.
Find out about these basics here:
New Hampshire's legislation for Internet poker
Online poker sites that welcome NH players
How to fund your poker account with USD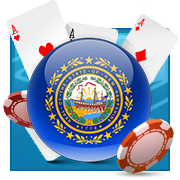 Online Gambling Law in New Hampshire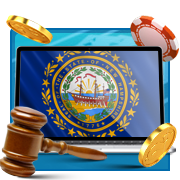 There are no specific mentions we can find of Internet or online real money gambling in New Hampshire legislation, but does that not mean those in the state should assume it's legal. The fact online real cash gambling is not included in the permitted gambling activities listed by the state tells us the opposite.
Does that mean individuals could get charged or prosecuted for accessing online gambling sites in the Granite State? It's possible, though we would stress there's no record we can find of this happening to date. We would strongly advise those in New Hampshire to seek the advice of a qualified legal professional for further clarity however.
Can Players from New Hampshire Play Online Poker?
Yes then can, and they do. Online real money poker is readily available to NH fans of the game, and you'll find a good number of sites will accept registrations from players in the state. It's important to check your chosen deposit and withdrawal method is available before signing up.
We would also advise conducting thorough research before picking the real cash poker site you play at. There will always be untrustworthy poker sites looking to prey on the naïve, so be sure you reference a credible reviews site and get as much information about the site's security measures before moving forward.
Recent Developments
A bill was recently defeated in New Hampshire that would have opened the door to real money casinos in the state. The proposal was for two casinos, with the justification that the money earned in tax revenue would have provided a huge boost to the local economy.
The bill went to the house, and it was expected to be a very tight call, but in the end there was a 50-vote margin in favor of rejecting the proposal. The fact it got this far, however, suggests we'll see more moves on this front and continued pressure from certain powerful corridors for New Hampshire to change its tune with regard to casino gambling.
The Facts
New Hampshire is not without its real money gambling options, but there are still no licensed casinos in the state and NH feels quite a long way from moving to legalize online gambling right now.
The History of Gambling in New Hampshire
New Hampshire launched its state lottery in 1964, becoming the first state in America to do so. By that time betting on horse races had already been going on for 30 years and there was also live greyhound racing to bet on.
The horse racing tradition continues, but these days the only dog racing to be found is through simulcast real money betting. New Hampshire's biggest issue today is whether to buckle to certain pressures and only licensed casinos in the state. There have also been moves to introduce video gambling machines, but those have been rejected thus far.
Regulated Gambling Options in New Hampshire
The following classify as legal, regulated gambling options in New Hampshire.
Pari-mutuel betting on live horse races
Pari-mutuel betting on simulcast horse races
Pari-mutuel betting on simulcast greyhound races
Charitable betting (raffles, bingo, poker parlors)
State lottery
The Future of Regulated Online Gambling in New Hampshire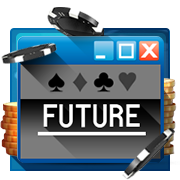 As things stand, you'd have to imagine New Hampshire would need to legalize real money casinos before even considering the notion of online gambling.
Thus far, Nevada, New Jersey and Delaware are the only three states in the U.S. to have legalized real cash online gambling. NH seems unlikely to follow close behind them, but it's certainly not out of the question that a move to bring in casinos could quickly lead to a call for online legality.
This is especially likely should the three states with legal online gambling proceed to make vast sums in tax revenue. If that happens, New Hampshire's temptation to join the party will be strong.
The Bottom Line
New Hampshire is currently not among America's most liberal states when it comes to real cash gambling laws, but there are signs that change could be on the horizon. A continued push for legal casinos should be expected and, sooner rather the later, you'd imagine expansion of some kind would come to gambling in New Hampshire.
References
[1]Seabrook Poker Room
[2]NH Lawmakers Reject Casino Bill by Wide Margin
[3]Is Gambling the Best Bet for New Hampshire
More Related Guides