North Carolina Poker Laws In 2017
North Carolina does offer a few options when it comes to real money gambling, but overall the Tar Heel State would be classed among the more conservative areas of the U.S. in terms of its gambling laws and what you can legally stake real cash on.
There are zero real money commercial casinos in North Carolina. Slots machines and forms of video gaming such as video poker, video keno and video bingo are also now classed as illegal (video poker was legal until 2007). NC is also without pari-mutuel betting on horse races, despite the presence of racetracks in the state.
When it comes down to it, those in NC don't have a lot of dice, but they at least have two real money Native American gambling venues on tribal land to visit. Those are Harrah's Cherokee and Cherokee Tribal Bingo, which are located in Swain NC.
The really good news is that another facility is coming soon. Harrah's Cherokee Valley River Casino and Hotel is under construction and will be situated in Cherokee County NC.
Get clued up on all this, right here:
What the gambling laws in NC say
Where to play 100% legal online poker
Ways for NC players to make USD deposits fast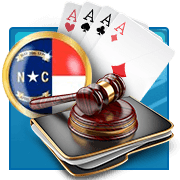 Online Gambling Law in North Carolina
As per North Carolina law, "it is illegal for any person or organization to operate a game of chance or to play or bet on any game of chance that involves winning money, property or anything of value. "
There's no direct mention we can find of "online gambling" in NC law, but that doesn't mean it's legal. Based on the fact that only those activities expressly identified as permissible should be classed as legal – and online gambling is not among them – we can only assume the state of North Carolina is against online gambling at this time.
Can Players from North Carolina Play Online Poker?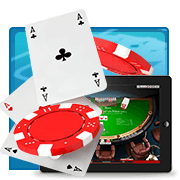 North Carolinians should have no problem finding good real money online poker websites to play at. There are plenty of sites that will accept registrations from those in NC and you can be set up and playing for real cash in a matter of minutes.
It's important for those in North Carolina to take their poker website choice carefully however. Not all real cash poker websites are created equal, and there will always be a small percentage of sites that exist purely to capture your details and try to take your money.
Be sure to thoroughly research the real cash poker websites you plan to play at.
Recent Developments
There is currently a North Carolina bill in process that seeks to legalize electronic sweepstakes. The bill is being hotly debated on both sides of the argument, with those in favor arguing that by regulating and taxing such a revenue stream, and also charging for a license, NC could make a healthy sum to split between, "state and local government agencies."
Those opposed cite the potentially issues real cash gambling can cause, both for the establishments hosting the technology and the individuals who become lost to gambling problems and potentially addiction.
The Facts
North Carolina has pretty tight real money gambling laws and doesn't appear likely to soften its stance in the near future. Tribal casinos and the NC state lottery are the only outlets for real cash gamblers in the state right now, along with charitable gambling such as bingo.
The History of Gambling in North Carolina
North Carolina's long association with gambling dates back to the 18th century, when the first laws were put in place to counter a real cash gambling culture.
The Old North State has never been a gambling Mecca, but through its history has used lotteries as a way of raising state funds. In 2006, the North Carolina State Lottery was launched and continues to thrive.
Betting on greyhound racing was legal for a period in the mid-1900s, but that didn't last long. There was also a recent golden period for video poker machines in North Carolina, but those were finally wiped out by a ruling in 2010.
In terms of the modern-day gambling history of NC, the biggest events would be the decisions, in 1982 and 1994 respectively, to allow for big money bingo and then a casino, to be licensed on tribal Native American land.
Regulated Gambling Options in North Carolina
The following would be classed as regulated gambling options in North Carolina:
Charitable betting, such as bingo
State lottery
Native American tribal casinos
Big money bingo on Native American land
The Future of Regulated Online Gambling in North Carolina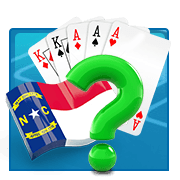 North Carolina appears highly unlikely to join the ranks of states with legalized real money online gambling in the near future. Nevada, New Jersey and Delaware were the first three American states to make the leap, but all three had a history of liberal views towards gambling. North Carolina is a different kettle of fish entirely.
Does that mean we should rule out North Carolina altogether, in terms of legal online real cash gambling? Absolutely not, because there's always the chance that huge tax revenues made elsewhere will turn heads and cause the states to buckle one by one. Just don't expect NC to be one of the early states to make a move.
The Bottom Line
North Carolina keeps a tight ship when it comes to real cash gambling. Laws are limiting and there's not of whole lot of choice when it comes to land-based real cash action. The good news is another Tribal casino is on the way, however, and that may lead to further expansion. It would also be a big step to see electronic sweepstakes made legal, though that bill is yet to be approved.
References
[1]NC Dept. of Public Safety: Gambling
[2]Mixed Reviews for NC Sweepstakes Legislation
More Related Guides