Texas Online Poker 2017
Texas has some good options when it comes to real money gambling. The Lone Star State offers pari-mutuel betting on horse and dog racing, a state lottery, and a tribal casino close to the border with Mexico. You can also take part in charitable gaming, namely raffles and bingo.
Texas is the second largest U.S. state by land mass and population, but its size is sadly not reflected by the number of land-based casinos on offer. The one and only venue of this type is the Kickapoo Lucky Eagle Casino, which is located in Eagle Pass and run by the Kickapoo tribe. You'll find over 2,800 slot machines, live poker tables and real cash bingo on the agenda there.
As per the Texas Racing commission, there are currently four horse tracks and two greyhound tracks in operation in the state. Pari-mutuel betting on races at the track is legal in TX, as is Simulcast betting, which must take place at licensed venues. Simulcast wagering is where punters can place bets on televised races happening live elsewhere.
The state lottery in Texas was launched in 1992 and has raised more than billion in state funds since then. There are a variety of real money games that be played, with prizes going up to the tens of millions. All tickets must be bought in person, through a licensed retailer.
This page will give you all the details you need to know about:
What gambling is lawful in Texas?
TX's most popular online poker sites
Real money poker bonuses explained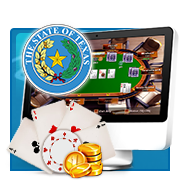 Online Gambling Law in Texas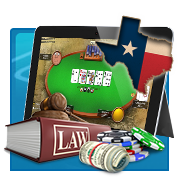 Online real money gambling of any kind is illegal in Texas, as clarified by the Texas District and County Attorneys Association. The only states to have passed bills legalizing online gambling thus far are New Jersey, Nevada and Delaware. TX appears unlikely to follow suit anytime soon.
We can find no record of an individual in Texas being charged or prosecuted for the act of accessing an online casino, but that doesn't mean you should feel safe to go ahead and play. If you need further clarification pertaining to online gambling law in Texas, we would advise consultation with a qualified legal professional on the matter.
Can Players from Texas Play Online Poker?
Texas poker players can access a big selection of online real money poker websites. Those in TX should have no problem finding a site that will accept their registration and comply with their banking preferences. Once set up, Texas-based poker players should be playing at the virtual tables in a matter of minutes.
We would strongly advise you take you time picking the right poker website if you're based in Texas however. Factors such as site security, bonus offering and game variety should be considered carefully, and it's a good idea to reference a respected online poker portal to get some guidance on the best sites.
Recent Developments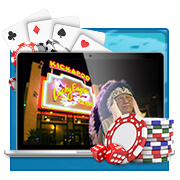 The Kickapoo tribe stands as the only regulated providers or real money casino gambling in Texas right now. According to this report by the Dallas News, there are those of influence in Texas who are pushing to expand gambling and open up more casinos to the public. The Kickapoo tribe themselves are also looking to add to the types of games they can offer.
The Facts
Texas has thus far resisted the temptation to go all-in on real cash casino gambling. The state remains a conservative stronghold and there is strong opposition in some quarters to the notion of gambling expansion. For now Texans will have to make do with their one tribal casino and pari-mutuel betting action at dog and horse tracks.
The History of Gambling in Texas
Texas today is a long way removed from the card-playing gambling days of the Wild West. Gambling regulation has been tight in TX for decades now and there remains staunch opposition from powerful forces in the state against the idea of casino expansion.
The factors that contributed to the roll out of gambling in texas are the launch of the state lottery arrived in 1992, and the Kickapoo casino in 1996. This was after pari-mutuel betting returned to Texas in 1987, and then came Simulcast betting, which was approved as an activity in 1991.
Regulated Gambling Options in Texas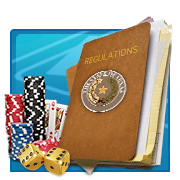 The following would be classed as regulated gambling options in Texas:
Pari-mutuel betting on dog and horse races
Simulcast betting on dog and horse races
State lottery
Native American casino on tribal land
Charitable gambling, in the form of bingo and raffles
The future of Regulated Online Gambling in Texas
Texas lawmakers have proved very hard to convince when it comes to the benefits of real money gambling. You'd have to imagine the expansion of land-based casinos would have to come before a serious move to legalize online gambling, and that may still be a way off.
That being said, everyone in America is watching to see how legalized online gambling works out for New Jersey, Nevada and Delaware. Should those three states enjoy spectacular returns and avoid too many negative outcomes, TX may well be among those states that consider some research in the area. Don't hold your breath though.
The Bottom Line
Texas is far from the worst U.S. state to be in if you're a lover of real money gambling. You have a casino to play at, along with pari-mutuel betting and the chance to play the state lottery. For a state of its huge size, however, TX comes a long way short of satisfying the many would-be gamblers who reside there or travel through every year.
References
[1]Texas Racing Commission
[2]Dallas News: Gambling Bills Up Losers in Legislature
More Related Guides