Wisconsin Guide To Poker Law 2017
Real money gambling is readily available in Wisconsin, in the form of Native American tribal casinos, pari-mutuel racetrack betting, a state lottery and licensed charitable gaming. The Badger State is therefore far from being the most conservative of U.S. states in this area. It might not have quite the offering of Nevada, or New Jersey, but there are certainly ways to put a wager on.
WI's licensed real cash casinos are all Native American run. These tribal establishments are licensed by compacts with the state and combine to offer over 16,000 slot machines, 300+ table games and 42 live poker tables, as per World Casino Directory numbers. There are no commercial casinos operating in the state of Wisconsin.
Greyhound racing ceased in 2009, but real money horse racing continues in America's Dairyland state. You can place pari-mutuel wagers at the track. Off-track betting is available at some licensed real cash casinos, allowing you to place bets on live horse races taking place elsewhere.
As for WI's state lottery, it was launched in 1988 and its proceeds have generated in excess of billion to fund property tax relief in the state. Tickets can be bought at retail outlets throughout the state and there are numerous game options to choose from. Charitable gambling in Wisconsin takes in activities such as bingo and raffles, with regulations as per where funds are directed.
On this page you'll discover:
Is it legal for WI residents to gamble?
Internet poker laws in WI
WI's top online poker rooms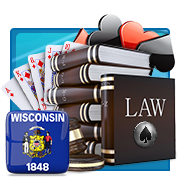 Online Gambling Law in Wisconsin
Online real cash gambling is illegal in Wisconsin. State legislation makes it clear that only those gambling activities clearly outlined may be participated in, with everything else classed as gambling deemed illegal. This would include wagering real money at an online casino.
We can find no record of an individual from WI being charged or prosecuted for the act of playing at an online casino, but that certainly doesn't mean you should go ahead and play without concern. The best advice for those in WI unclear as to online gambling law is to consult with a qualified legal professional.
Can Players from Wisconsin Play Online Poker?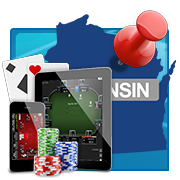 Wisconsin's poker lovers will be pleased to know they can access a good number of online sites and get playing for real cash. All you need do is find a reputable site that accepts registrations from WI, make an initial deposit, and you'll be sat at a virtual table in a matter of minutes playing the game you love.
A word of caution here, though, because not all real money poker websites can be trusted. We would recommend that those in Wisconsin reference a credible online poker portal before choosing the site they will play. You need to take your online security into consideration, along with weighing up which poker website best suits your needs. Factors such as bonuses, game variety and player base are important to consider.
Recent Developments
Wisconsin was recently listed as one of nine potential candidates for legalized online gambling in the near feature. The suggestion here is that WI could be "part of a second wave" of states behind New Jersey, Nevada and Delaware.
The Facts
Wisconsin has a decent offering when it comes to real cash gambling action, but it remains illegal to gamble online there. Your best bet for a varied experience is to visit one of the state's tribal casinos.
The History of Gambling in Wisconsin
For a long time, Wisconsin took a hard line on all kinds of gambling, with all forms prohibited from the launch of the state constitution, until a change occurred in the late 1980s. A state lottery was legalized and then came approval for North American tribes to open casinos in the 1990s. By that time bingo and raffles had also been approved.
Regulated Gambling Options in Wisconsin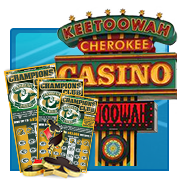 The following would be classed as legal, regulated gambling options in Wisconsin:
Pari-mutuel betting
Native American casinos
Charitable gambling
State lottery
The future of Regulated Online Gambling in Wisconsin
There are moves afoot by at least one Native American tribe to push for legal online real cash gambling in WI. This would suggest momentum is gathering and that we might expect a bill of some kind in the not-too-distant future. Whether it would be approved is hard to say, though the chances of that happening would undoubtedly be boosted should NV, NJ and DE enjoy success with their legal online gambling initiatives.
The Bottom Line
Wisconsin has some good real money gambling options and further expansion could be forthcoming in the next few years. The state has shown itself open to change and the lure of bringing in more tax dollars could see politicians push for additional gambling options. That might even include legalizing online real cash gambling in the state.
References
[1]World Casino Directory: Wisconsin
[2]Wisconsin State Lottery
[3]State of Online Gambling in the U.S.: Nine Potential Candidates
More Related Guides